AltF consists of John Michael Cooper, a 22 year photography expert that is known for his extraordinary style and Dalisa Cooper, the "artist tamer" that is the business end of the company. The studio signature "very different" photography has given rise to the "Trash the Dress" trend, and we talk to the artist to find out where it all came from.

For such a talented artist, it's hard to believe John Michael Cooper got into photography by accident. "I was in college for computer programming and took a semester of photography", says JMC, "It did not take long for me to lock myself into the dark room, drop the rest of my classes and indulge myself."

Since then Cooper has fueled his work with inspiration from paintings by John Singer Sargent, Goya & Velazquez; the stories of Shakespeare; and movies such as Amelie, Star Wars and the work of Quentin Tarantino. AltF earns most of its business through referrals from clients and other wedding professionals. "I have been told that anytime a bride mentions wanting something 'different' for her photography, that's when I come to mind." shares JMC, when asked about his strategy to grow his business.

John Michael Cooper is credited with sparking the Trash the Dress movement in 2000, and according to him it hasn't altered the source of his business much, even with the growing public notoriety. With the "Trash the Dress" phenomenon sweeping the globe, we of course had to know how he came up with the idea. 
"When the trend began brides were just as pristine and elegant as they are nearly 10 years later but I was constantly restrained from my art because the bride could not walk on grass or across a dirt path, or even sit for that matter, in fear that her dress might get a little dirty." – says Cooper, – "One afternoon there was a fire in a local park that left a sooty scene of ash and debris that I just had to shoot in – it was the perfect setting for a great shoot! I contacted several of my recently married brides and offered a free session just to come out and play around and get some great photography out of it. They were all for it until I explained the circumstances of the chance that their wedding gown may end up ruined and I was turned down every single time. "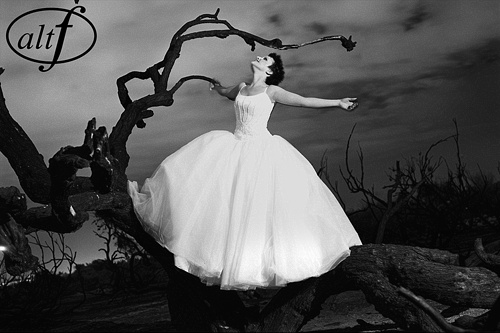 "Out of frustration I ran out to the nearest gown shop, spent $400 for an off-the-rack gown and called a friend who was more than willing to participate and I executed my idea. I immediately began marketing it and found the type of client that I was looking for – the type that are willing to put art first, even if that means that their dress might get dirty."
"The biggest misconception about the "Trash the Dress" trend is that it is about the dress. It's never about the dress, it's about having the freedom to communicate your art and vision without being restricted. In return, my clients receive art to hang on their walls – non-traditional wedding photography that speaks more about them and less about how we are "supposed" to photograph weddings. After that first session in 2000, I received calls and emails from every single bride that I had called and that turned me down apologizing and offering up their time and dress for another session, unfortunately they lost the chance. From then on, clients would point to those images and explain that that's what they wanted to do."
For all the places Cooper draws inspiration, you'd think it'd be difficult to find the right model to execute each idea in his sketchbook, however it seems brides are more than eager to participate in the ideas he has brewing. "When I had the idea for "Ophelia" - the bride in water, I made the mistake of mentioning it to a few couples. One of my brides kept volunteering and the circumstances just were not right. On her wedding day, we took a break half way through the reception to take some photos and without hesitation she walked right into a nearby stream – I couldn't stop her. When she reached mid-waist, she asked if she could be my Ophelia, I felt terrible and photographed it for her, but it still wasn't the perfect setting."
There are many extremely talented and inspired photographers out there that are yearning to break with convention, but are worried about losing business. To those that feel the certain creative spark, John Michael Cooper recommends: "Shoot for yourself. No matter how crazy or dull you think it is, there is a client out there that will appreciate it. For every one wedding we book, we get many, many turn downs. In the overall picture, if you are happy with what you are doing, your clients will be too. It will show in your work and your overall attitude."