Mpix: 50% Off 8x10 E-surface Prints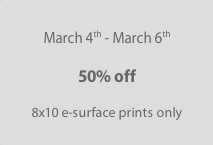 Would you like more for less? Right now you can get it, with the new Mpix promo. From March 4-March 6 get 50% off 8x10 e-surface prints. This limited time offer is only for this size and type of print. The discount does not apply to finishing services, standouts, frames, or speciality items.
As usual, there is no need for a code when using your Zenfolio account, the discount is automatically applied to your base prices at checkout.
---
No comments posted.
Loading...