Mpix: 25% off All Photographic Prints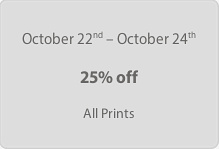 Start your week off right by taking advantage of the Mpix 25% off sale. Between Monday, October 22  and Wednesday, October 24 you'll save 25% off all photographic prints including magazine covers, memory mates, photo calendars, greeting cards, and photographic prints. This is a great way to get a head start on your holiday planning while saving 25% off.
This offer does not include mounting, finishing services, or shipping. When you place your order through your Zenfolio account no discount code is needed.
---
No comments posted.
Loading...