This feature allows for better integration of a personal web site hosted elsewhere with a Zenfolio account.
A personal site usually displays a portfolio or blog including information about services offered, prices, contact information, and latest news. With this new feature, a Zenfolio account can be used more effectively as a back-end engine for hosting photos, for client proofing, order placement, and fulfillment. This feature is a part of the Premium Subscription. You can find it under Preferences -> Custom Home Page.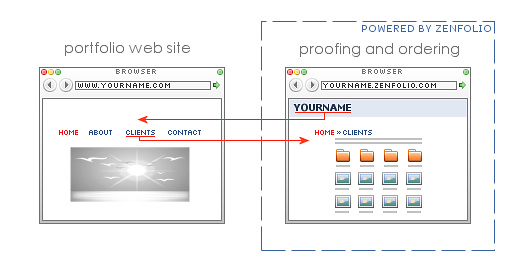 If you enable the Custom Home page feature, your personal web site will replace the Zenfolio-provided Home page. All "Home" links from Zenfolio galleries, as well as your name on all the pages will link back to your personal site.
Let's take a look at one example from Eric Rudd Photography. Eric has a personal web site http://www.ericruddphotography.com. Take a minute to appreciate the neat presentation of Eric's portfolio, read Eric's blog below the slideshow, and learn more about Eric's services. Then click the "Client Proofing" link in the top menu, which takes you to a group called "Clients" in Eric's Zenfolio account.  Clients can open their galleries, enjoy the photos, and order prints and products offered by Eric. Now, click "Eric Rudd Photography" at the top of any page and you will return back to Eric's personal web site.
Eric has customized the All Photographs group in the root level of his Zenfolio account by giving it a friendly URL (http://cart.ericruddphotography.com/clients ) and changing the title to 'Clients'.
He also used Customize Visitor View > Options to remove the "breadcrumbs" and to simplify the page by hiding dates, guestbook, and other page elements to keep the page simple and clean.
With this feature, you can link your personal site to the root level of your Zenfolio account. All public groups, galleries, and collections that you see in the Organizer will be displayed on this page. In essence, the All Photographs section is displayed on the page linked from your personal web site. You can also change the text "All Photographs", just as you would change the title of any other group.
Since the custom Home page replaces Zenfolio-provided Home page, the Recently Added and Featured sections are no longer displayed. To replace them, you can create a correspondingly named group and place it directly under All Photographs. Alternatively, you can create a gallery called "Featured" that will contain photos that you would like to bring attention to. Then, you can link from your personal web site to this Featured gallery.  You can also organize your work by category, such as Weddings, Portraits, Sports, etc., by placing galleries for each category into a corresponding group, and linking these groups from your external web site. This gives you complete control over how your visitors navigate through your site.
We are working on providing more choices for the Zenfolio Home page layouts, as well as customization options. The Custom Home Page feature is designed to work for those photographers who already have their own site and are looking to better integrate it with their Zenfolio account.